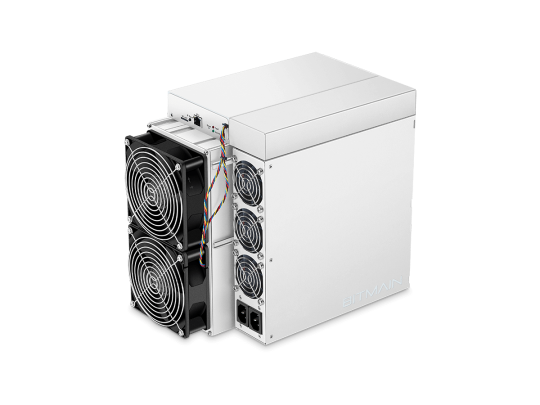 S19 antminer |LLGO
Antminer S19 is a higly recommended mining device with a 110 hash rate with a maximum 3500 power consumption rate. Buy the miner and take a share of the cryptocurrency market now.
All you need to know about Bitmain S19 Antminer
Bitmain Cayman maintains the right to terminate any product or service at any time and to make any necessary adjustments, revisions, upgrades, improvements, and other changes. Before placing orders, customers should collect the most recent pertinent information and ensure that it is accurate and up-to-date. The terms and conditions of sale provided by Bitmain at the time of order acknowledgment apply to the sale of all items. The most recent 19-server model from Bitmain is called the S19 Antminer. The S19 server's APW12 power supply is a component.
The Antminer S19 and S19 Pro have improved stability thanks to the new APW12 highly efficient power supply. To offer the greatest mining experience, the new firmware also includes a quicker startup time and an advanced control system. The newest Antminer 19 series from Bitmain features cutting-edge technology that enables miners to productively mine Bitcoin using the SHA256 algorithm. The most recent Antminer model promises higher performance, allowing miners to maximize revenue and being built for better operations to ensure long-term operations.
Components of S19 Antminer
There are components and elements present in S19 Antminer are as follows:
· Rear fans
· Controllers
· APW12 Power Supply
· Front fans
· Hash Boards Housing
· SD card slot
· Ethernet connector
· Fault indicator
· Normal operations indicator
· IP report pushbutton
· Reset button
All these components are very important for the proper functioning of the s19 antminer.
Specifications of S19 Antminer
· Efficiency- 34.21 J/TH
· Release Date- May 1, 2020
· Dimensions (mm)- 195x290x400
· Hashrate- 95 TH/s
· Algorithm- SHA256
· Weight- 14500 g
· Watts- 3250 W
· Manufacturer- Bitmain
· Voltage- 12 V
Regulations to follow while using S19 Antminer
Part 15 of the FCC Rules is adhered to by this gadget. Two requirements must be met for operation: This gadget must accept all interference, including disturbance that may result in unwanted interference, and it must not generate any interference that is detrimental to the operation. According to part 15 of the FCC Rules, this equipment has been evaluated and found to conform with the requirements for a Class A smart device. These restrictions are made to offer adequate defense against undue intrusions when the device is used in a commercial setting. If not built and used in compliance with the instruction manual, this equipment, which generates, utilizes, and can emit radio frequency energy, may cause hazardous interruption to radio communications.
If a product has this sign on it or its box, it means that it should not be thrown out with your regular household rubbish. Instead, you must dispose of your old equipment by giving it to a location designated for collecting used electrical and electronic devices for recycling. Your waste equipment will be collected separately and recycled at the time of disposal, helping to preserve natural resources and guaranteeing that it is recycled in a way that safeguards both the environment and human health. Please get in touch with your local city office, your household waste disposal agency, or the store where you bought the item for more details about where you can drop off your used recycling equipment.
Do's of S19 Antminer
· Check the miner for cosmetic blemishes or dangling heat sinks. Contact us right away if you see any damage, defects, or loose heat sinks.
· Place the miner in an area with free air flow and no dust.
· When installing or maintaining the miner, release static electricity or use anti-static PPE.
· When establishing or maintaining the miner, unplug it. The servo controller will be harmed otherwise.
· Make use of a source of power that has a power output that is 20% greater than what the miner needs. The hash rate will be inadequate if the power source's actual production falls short of what the miners need in terms of electricity.
Don'ts of S19 Antminer
· Please position your goods in use according to the above configuration in case of damage.
· Please position your goods in use according to the above configuration in case of damage.
· A mains socket-outlet that is earthed must be used to connect the equipment.
· A mains socket-outlet that is earthed must be used to connect the equipment. The socket outlet must be positioned close to the machinery and be simple to use.
· Only by simultaneously connecting the two power distribution sockets on the equipment's two power inputs will it function.
· Make sure to turn off all energy inputs before turning off the machine.
· DO NOT unscrew any wires or screws that are fastened to the product.
· Do not push the metal button
Conclusion
To ensure a simple setup, all S19 Antminer servers are verified and configured before shipping. With the latest generation custom-built Bitmain processor, the Antminer S19 series can operate at power efficiency levels as low as 23 J/TH. To achieve this, the circuit architecture was improved, considerably increasing power efficiency.

Get high quality and original S19 Antminer to get success in crypto mining
Bitcoin mining was a profitable occupation for early adopters, but nowadays, it has become more difficult, and there are only a few bitcoin mining machines such as S19 Antminer that can generate profit for you.
While choosing a bit mining machine, there are a few things that you should consider.
Hashrate
An increased hashrate indicates the security of the network as it indicates the number of miners verifying the transaction. S19 Antminer comes with 95th/s, which is impressive.
Power consumption
Nowadays, you only can generate a decent profit if you are using a mining machine that consumes low power. Overpaying for the power consumption of your mining machine can't be accepted, as the higher the power consumption, the lower the profit. The power consumption of the S19 Antminer is 3250Wt. It is lower than most of the mining machines in the market. So, you know that there is a high chance of profit generation for you.
Temperature and cooling components
When you are lurking across the internet to find the best mining machine, you have to go through the temperature, temperature fluctuation, and cooling components of each machine. You should avoid machines that generate a great amount of heat. Besides that, if the machine does not have enough cooling components like fans, you know that it is not a decent machine that you can use for heavy work. The minimum temperature of S19 Antminer is 5 degrees Celsius, and the maximum is 45 degrees Celsius. On the other hand, S19 Antminer has 4 cooling fans for keeping your machine cool, even when you are working hard with that. So, it indicates that S19 Antminer is a decent mining machine that you can consider.
Noise level
If you are willing to buy a mining machine, especially if you intend to use it at your house, you should be very careful about the noise level. A mining machine with an increased noise level is never preferable. Let's make one thing very clear: no matter which mining machine you are purchasing, it will generate noise as these machines use heavy power for working. But, among all of those noise-making beasts, you have to choose which one has a lower noise level. S19 Antminer has a noise level of 75Db, which is less than most other mining machines.
Profitability
The most important part. When you are willing to purchase a cryptocurrency mining machine, that clearly means that you are willing to generate a good amount of profit from that. That's why before purchasing a machine, you have to know the approximate profitability of that machine. Though the profitability depends on the market scenario, you can get the approx figure if you do your research well. The approx profitability of S19 Antminer is around $12.96 per day and around $387.49 per month. So, you see that this machine has a good approx profitability.
You can go for S19 Antminer no matter whether you are a professional or new in the market.
Where to get an original and efficient S19 Antminer?
Many companies in the market offer mining machines to their customers, but in some cases, you can get a faulty machine or something that is not original. We, LLGo, have created our place in the market with our loyalty and hardworking approach. We provide our clients with 100% original S19 Antminer that can generate a good amount of profit for you. When you purchase an S19 Antminer from us, you don't have to take a headache about the quality of the S19 Antminer as we only sell the best in class quality products.

Recommended reading
LLGO, a trusted and professtional mining hardware provider, deliver one-stop service for users with cryptocurrency mining needs, including mining machine purchase, miner rental, hosting and mining operation.
How much do Antminers make a day?
Given current levels of miner revenue potential (what we in the industry call hashprice), the Antminer S19XP would produce $53 a day per deployed unit.
Is it worth buying an Antminer?
Conclusion. The Antminer S17 and Antminer S17 Pro are both great choices for the professional miner, especially if bought directly from the manufacturer. Its efficiency is good and should be able to provide decent returns in the current mining environment.
1.About Antminer Antminer s19j Pro
Antminer Antminer s19j Pro new high performance miner (104th / s ± 5%), power consumption (3068± 10%).
2. Calculation unit
The calculation force of S19pro of each ant miner is 104th / s.
3. Electricity cost
The original electricity fee is 0.078USD /Kwh(prepaid monthly).
4. Service charge
Collect 5% of the mining output as a management fee (including mine maintenance, mining machine online, mining machine deployment, mining machine maintenance risks, etc.)
5. Calculation power income
Refer to the llgo ore pool for the mining revenue of mining machine: https://pool.llgo.com/
6. Income settlement
The estimated income is calculated from the actual operation of the digital asset network and will change dynamically for reference only; the actual income from mining is the income from digital assets after deducting the service charge of the mining pool, and the service charge collection standard of the mining pool is for reference: https://pool.llgo.com/page/fee The mining revenue is recorded every minute, and the daily settlement of yesterday's mining is at 14:00 America time Mine income is distributed by day (24h). Only when the revenue reaches the amount specified by the platform can it be withdrawn.
7. Mining machine property rights
The property rights belong to the user, apply for withdrawal 30 days in advance, or you can pick up the mining machine from the mine(Before the loan is repaid, the property rights belong to the lender)
8. Termination of contract
If the customer fails to pay the electricity fee on schedule, the contract will be frozen. If the freezing period exceeds 5 days, the contract will be terminated. The contract will automatically terminate upon expiration.
9. Purchase instructions
Before placing an order, please understand the product carefully. If you are unclear, you can consult customer service. Once the order is placed, it means that the product has been approved and there is no refund.
10. Risk tips
The price of digital assets often fluctuates greatly, and the mining difficulty of each currency will be adjusted regularly. A fall in the currency price or a rise in the difficulty will result in a decrease in the yield per miner. Users need to carefully assess their risk tolerance and invest in digital asset mining within acceptable risk control.
The platform reserves the right of final interpretation for the terms of this contract.
Highest rate of return ?

[Maximum return]:" Bitcoin's highest currency price "times" day's hashrate output "times" rental term "equals" return ". [Annualized return rate]:" Net income " (Revenue-Miner Price-Total Electricity Charge = Net Income), divided by "Cost" (cost = Miner Price + Total Electricity Charge) = "Return Rate". Multiply "Return Rate" by (365 days divided by "Lease Term" Days) = "Annualized Return".

411%
mining?

The price of the mining machine refers to the price of the mining machine plus power supply or the price of the integrated machine with power supply. Many mining machines sold on the market do not contain power.

$1,980.00 /units
Electricity Rate ?

The daily electricity rate is the machine's "power consumption" times "electricity price" times "24 hours" equal to the daily electricity price. Multiply by 30 days to get the monthly electricity bill.

$0.078/KW/H
Est. Daily Earnings?

Each serving equals %s table miner.Management fee not deducted.

0.00022880 BTC
Hashrate?

Hash rate refers to the computing power of the chip of the mining machine. Since the mining machine calculates 24 hours a day, the chip is a consumable item. The average life cycle of a general mining machine is 1.5 to 2.5 years. Due to factors such as voltage, heat dissipation, and machines, the stability of computing power will be affected. It is normal for mining machines to fluctuate within ±5% of standard computing power.

104 TH/s x 1 units
Power

3.07kw/h x 1 units
Points?

Earn points on product purchases, spend $1,000: get 1 point reward.

39.60 Points
Maintenance fee ?

The maintenance fee is also called the management fee. The management fee is the mine maintenance, the maintenance of the mine machine, the replacement of spare parts for the mining machine parts, and the maintenance of the mine cooling system. The management fee is the deduction of management fees from the proceeds of digital assets.

5%
Required Time for Launch

15 days
Escrow period

1080 days
Miner Property

The property rights belong to the user, apply for withdrawal 30 days in advance, or you can pick up the mining machine from the mine(Before the loan is repaid, the property rights belong to the lender)

deliver
Insurance

US property insurance
Wallet?

It can be modified after the loan is paid off.

Can be changed
Mining Pool?

It can be modified after the loan is paid off.

Can be changed
Warranty

Manufacturer's warranty and repair quotation according to the actual situation.

Factory Warranty
Loan Interest

Annual interest5%-8%
Mining type
Hashrate
Electricity Rate
Power
Electricity fee/day
Gross income/day ?

The currency used for this revenue calculation comes from the huobi.com data and is updated every ten minutes.

Net income/day ?

The currency used for this revenue calculation comes from the huobi.com data and is updated every ten minutes.

Electricity cost ratio
Shutdown currency price ?

The shutdown price refers to the price of the miner's miner that is not enough to pay for the electricity cost of mining. It can also be understood as the mining cost price of a certain coin.

Current currency price ?

The currency used for this revenue calculation comes from the huobi.com data and is updated every ten minutes.

Back to the number of days
Antminer s19j Pro 104T
104 X 1TH
$0.078
3.07 X 1KW
$5.750
$6.110
$0.360
$25,118.180
$26,686.820
5517